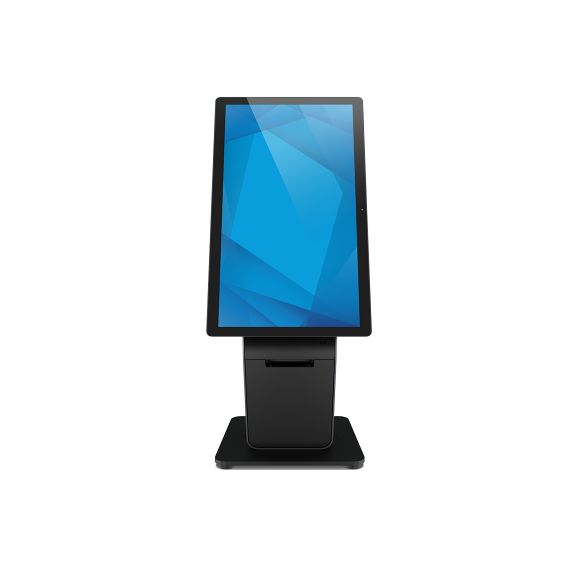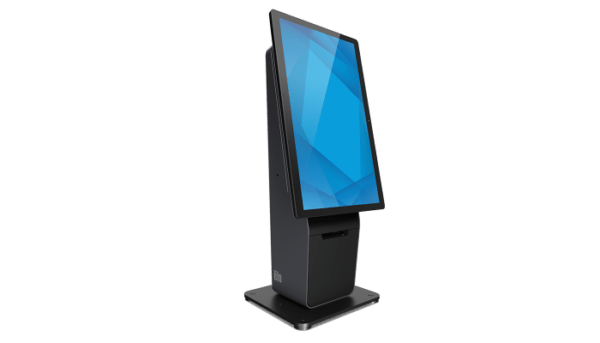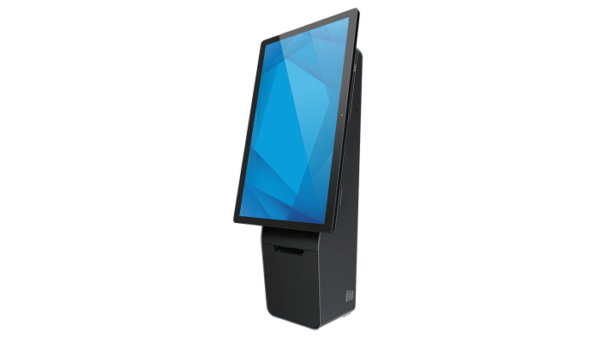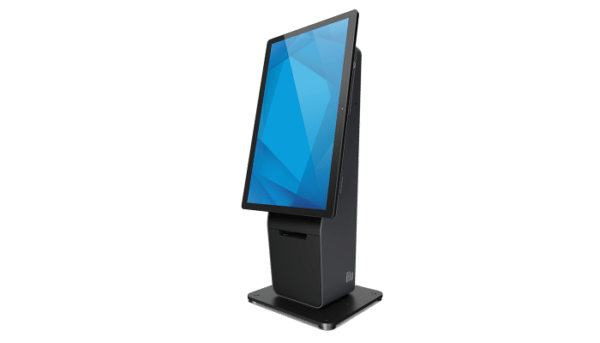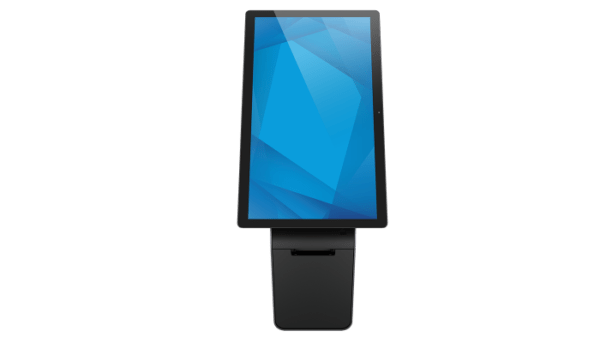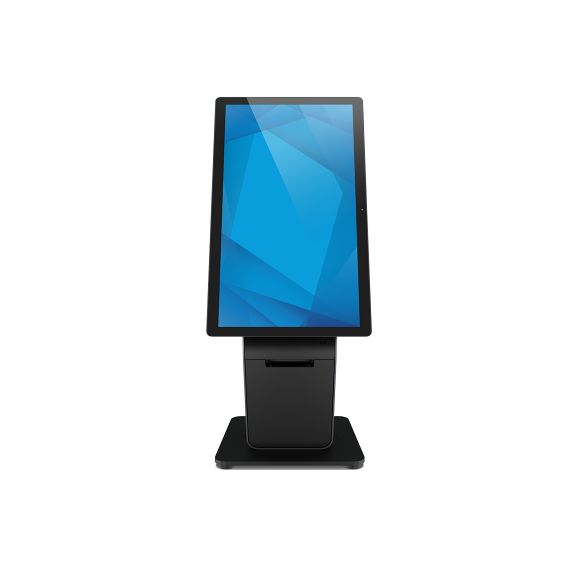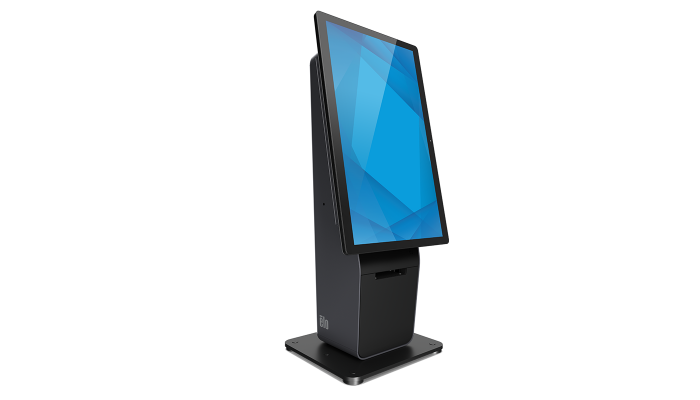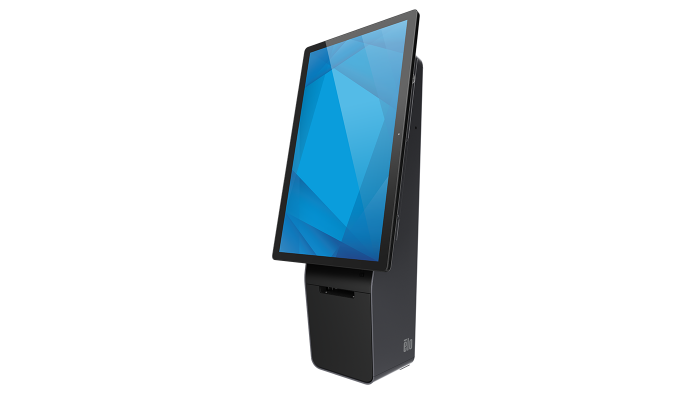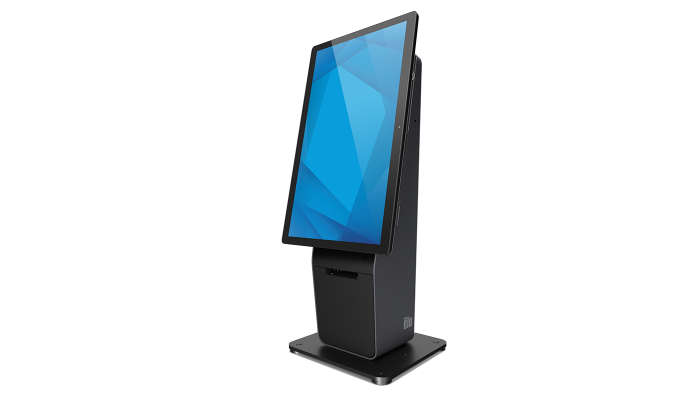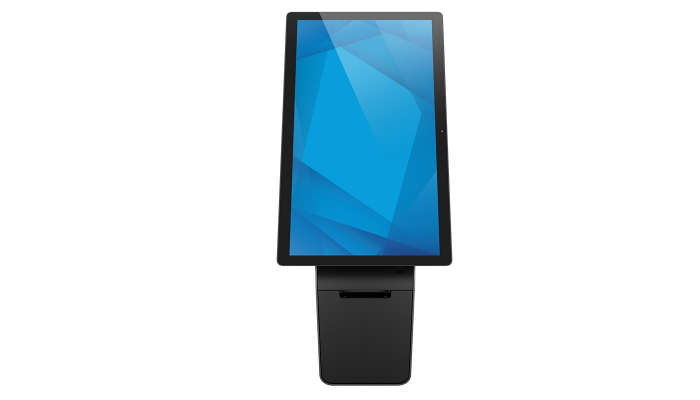 Elo Wallaby Pro Self-Service Countertop Stand – E989127
Elo Wallaby Pro countertop stand, compatible with 22-inch I-Series, 24-inch or 27-inch touchscreen monitors. Comes with assembly instructions, power cables, Wi-Fi extension cables, printer paper chutes, filler plate, ADA plate.
Mfr Part # E989127
Description
Elo Wallaby Pro Self-Service Countertop Stand
The Wallaby Pro is changing the industry by making it
easier than ever to configure

interactive self service solutions.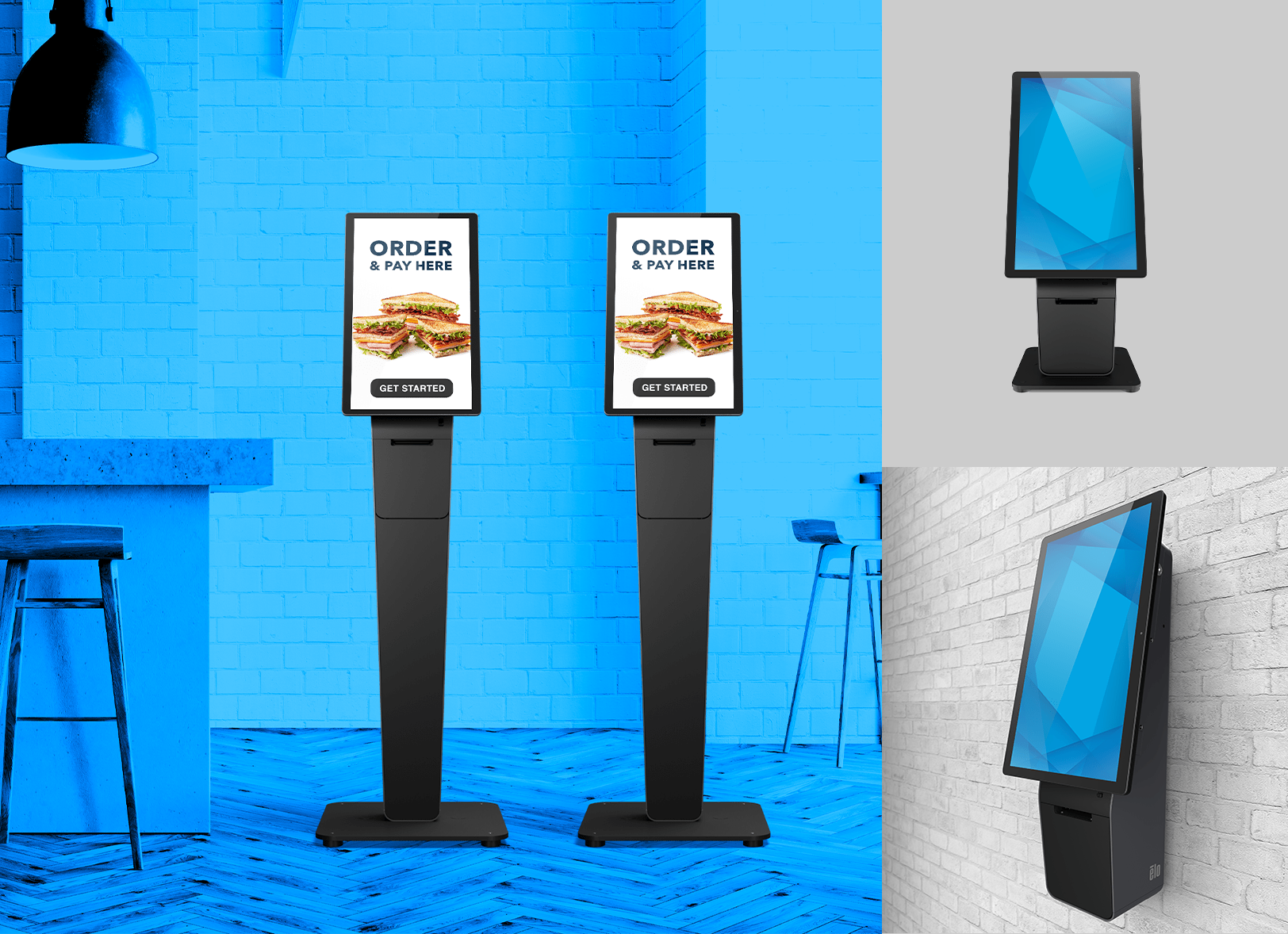 Choose from wall, counter and floor models.
Engineered with configurations to fit any space, the modular design is perfect for retail, restaurants, hospitality, healthcare and corporate environments.
Add a 22-, 24- or 27-inch touchscreen display.
Power your self service kiosk with the I-Series all-in-one or pair your choice of touchscreen monitor with a compute device.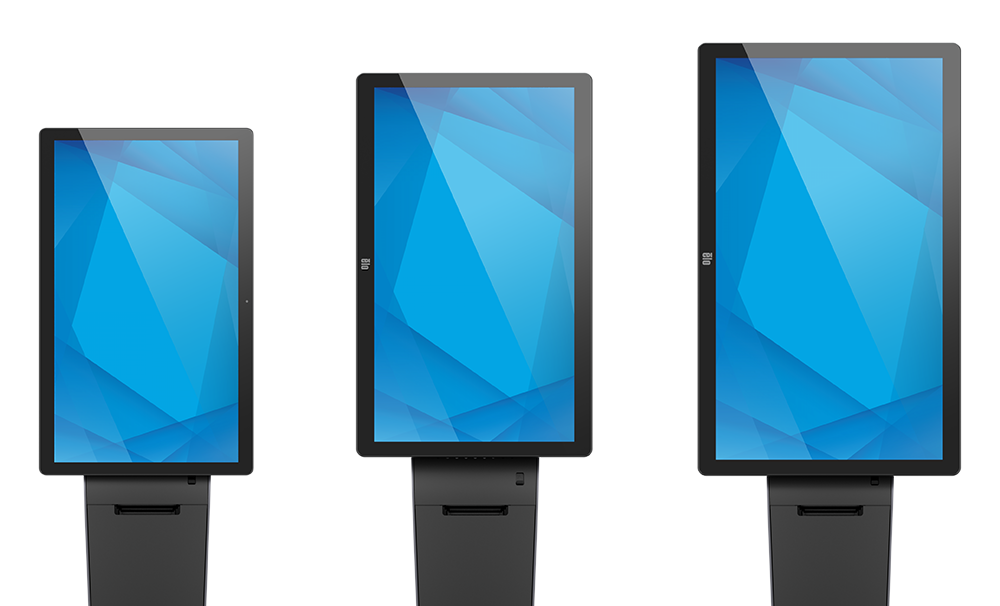 Make it single-sided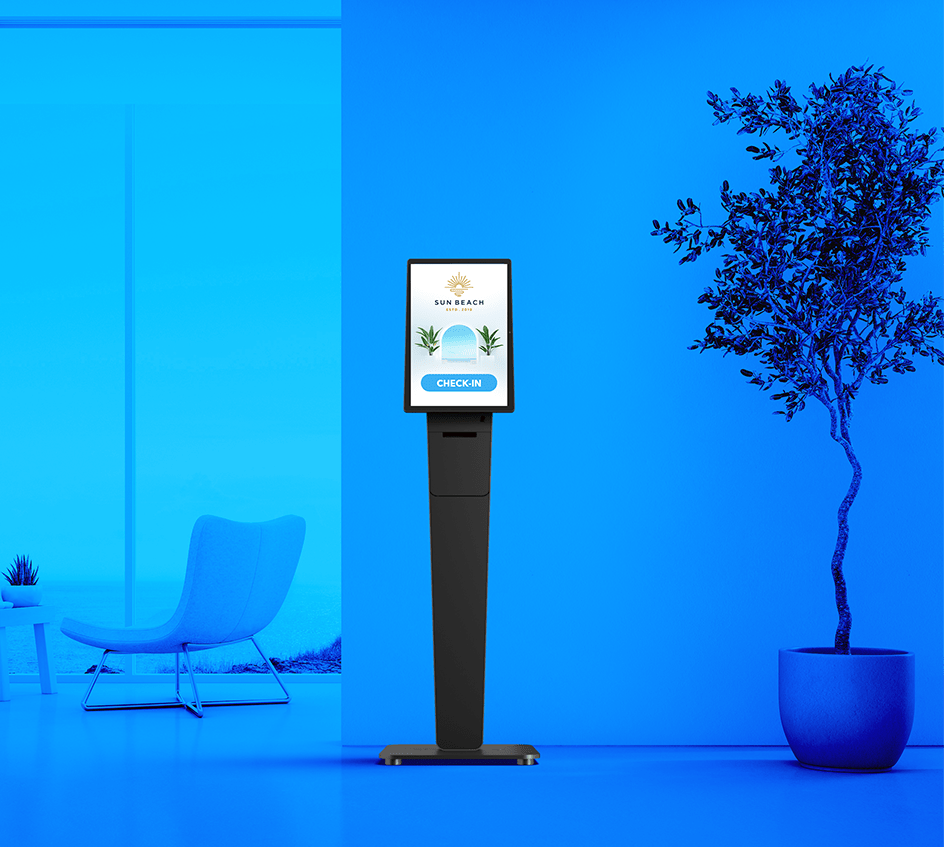 or double sided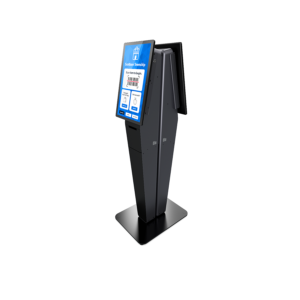 Add a backer board.
Elevate your self serve solution by adding a custom branded backer board that easily connects to the back of the stand or ceiling pole.
Add a ceiling pole.
Route cabling upwards using the ceiling pole to minimize the impact on your current footprint.
Easy access to key components.
The Wallaby Pro Self Service Stands offer concealed housing for a power strip, power bricks, a compute device and cables all with easy access to key components.
Add a printer.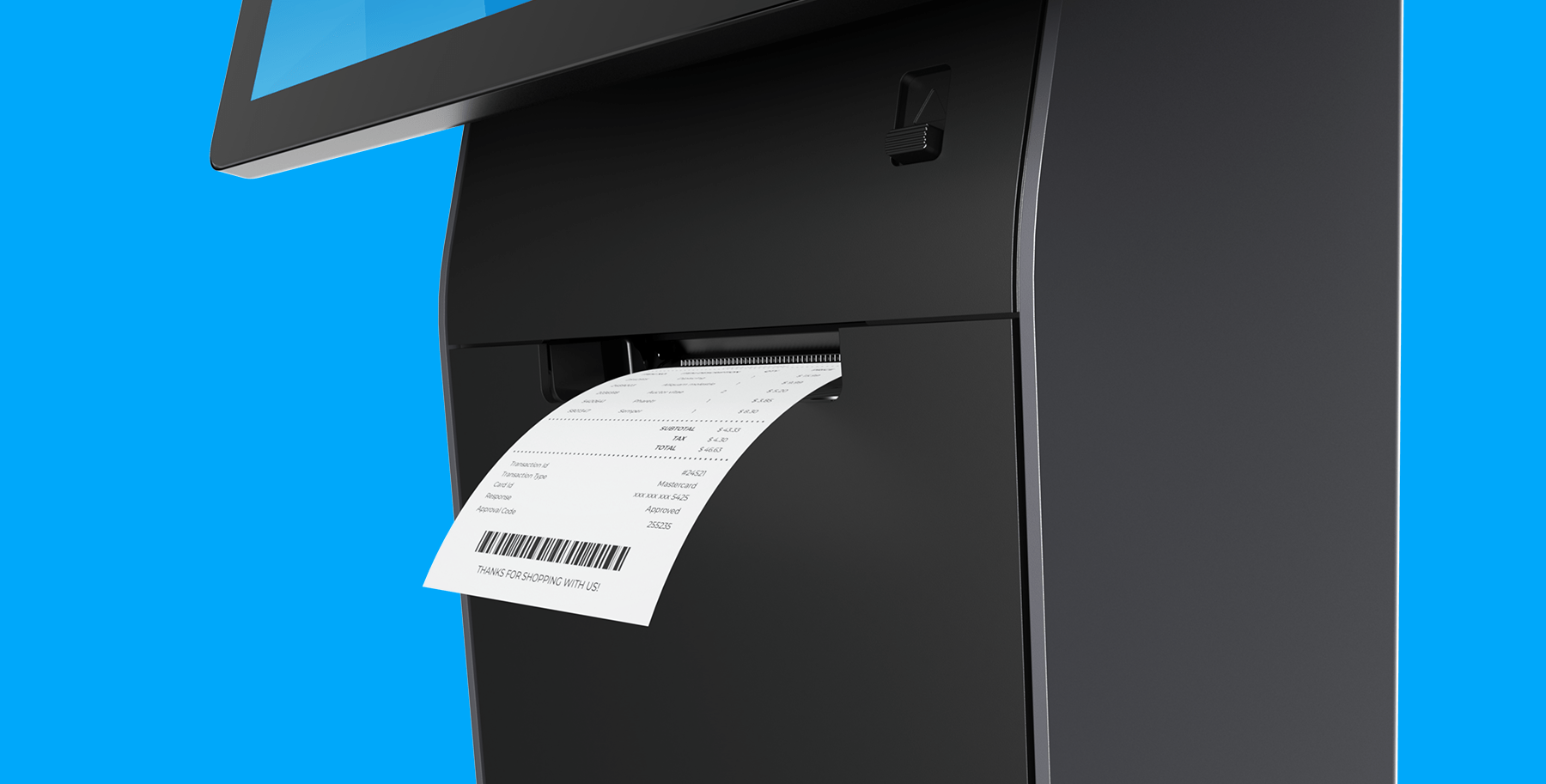 Connect accessories to the edge
Elo Edge Connect offers an expansive lineup of accessories that seamlessly attach to the edge of the display including – EMVs, barcode scanners, status lights, cameras, RFID, MSR, fingerprint scanner and more.
Customize yourself service solution!
From wrapping the backer board and adding your logo to branding the front with your choice of color, the Wallaby Pro can be customized to fit your business.
Specifications:
Wallaby Pro Countertop Stand – E989127
Wallaby Pro Floor Stand – E989314 + E989512
Wallaby Pro Double-sided Floor Stand – E989314 + E989314 + E989705
Wallaby Pro Wall-mounted Stand – E989127 + E990079
Display Compatibility (portrait only)
22″ Android I-Series 4
22″ Windows I-Series 2
2402L
2403LM
2702L
2703LM
Compute Compatibility
Backpack 4 (Android)
ECMG4 (Windows 10)
Intel NUC (max dimensions of 127 x 127 x 51mm with 94mm mounting hole pattern)
3rd Party PCs (max dimensions of 127 x 127 x 51mm with 75mm or 100mm VESA pattern)
EMV Cradle Compatibility:
Verifone MX915 and M400 – E458992*
Verifone MX925 – E352169*
Verifone P400 – E990282
Ingenico RP457C (Bluetooth) E710930 (Edge Connect – no bracket required)
Ingenico RP457C (Audio Jack) E586981 (Edge Connect – no bracket required)
Ingenico LANE3000 – E990468
Ingenico LANE5000 – E996512
Ingenico LANE7000 – E990654
Ingenico iSC250 – E458992*
Ingenico RP757  E920661*
Ingenico iPP350/iPP320/iPP315 – E458797*
MagTek eDynamo  E375343 (Edge Connect – no bracket required)
Square Terminal – E458992*
*Note: not compatible with the ECMG4
Printer Compatibility:
Epson TM-T88
Epson M30
Epson EU-m30
Epson L90
Star TSP654
Star TSP100
Star mC-Print3
Bixolon SRP-350
Wall mount kit for countertop stand – E990079
Assist button kit – E284334
Signage kit for floor stand with ceiling pole – E991255
Backer board kit for floor stand or countertop stand – E990854
Backer board kit for double-sided floor stand – E989705
Ceiling pole kit for floor stand – E989893
Android Expansion Module – E809509
Double-sided base for floor stand – E989705
controller dimensions in inches
Countertop stand (E989127): 29.06″ x 11.81″ x 10.91″ / 738 mm x 300 mm x 277 mm
Floor stand (E989314 + E989512): 57.01″ x 18.90″ x 17.72″ / 1448 mm x 480 mm x 450 mm
Double-sided floor stand (E989314 + E989314 + E989705): 57.01″ x 20.08″ x 22.52″ / 1448 mm x 510 mm x 572 mm
Floor stand base (E989512): 18.90″ x 17.72″ x 3.86″ / 480 mm x 450 mm x 98 mm
Floor stand top (E989314): 55.98″ x 9.80″ x 7.24″ / 1422 mm x 249 mm x 184 mm
Double-sided base for floor stand (E989705): 22.52″ x 20.08″ x 3.86″ / 572 mm x 510 mm x 98 mm
Ceiling pole kit for floor stand (E989893): 130.04″ x 5.39″ x 4.80″ / 3303 mm x 137 mm x 122 mm
Signage kit for floor stand with ceiling pole (E991255): 47.24″ x 15.75″ x 0.24″ / 1200 mm x 400 mm x 6 mm
Backer board kit for floor stand or countertop stand (E990854): 49.21″ x 11.81″ x 0.24″ / 1250 mm x 300 mm x 6 mm
Backer board kit for double-sided floor stand (E990151): 49.21″ x 11.81″ x 0.24″ / 1250 mm x 300 mm x 6 mm
Wall mount stand (E989127 + E990079): 28.46″ x 9.80″ x 8.34″ / 723 mm x 249 mm x 212 mm
Assist button kit (E284334): 7.28″ x 7.16″ x 1.81″ / 185 mm x 182 mm x 46 mm
Countertop stand (E989127): 32.87″ x 16.34″ x 16.14″ / 835 mm x 415 mm x 410 mm
Floor stand base (E989512): 22.84″ x 22.24″ x 7.48″ / 580 mm x 565 mm x 190 mm
Floor stand top (E989314): 59.65″ x 12.80″ x 14.57″ / 1515 mm x 325 mm x 370 mm
Double-sided base for floor stand (E989705): 27.76″ x 23.43″ x 7.87″ / 705 mm x 595 mm x 200 mm
Ceiling pole kit for floor stand (E989893): 65.55″ x 8.46″ x 8.86″ / 1665 mm x 215 mm x 225 mm
Signage kit for floor stand with ceiling pole (E991255): 53.74″ x 19.09″ x 4.92″ / 1365 mm x 485 mm x 125 mm
Backer board kit for floor stand or countertop stand (E990854): 53.74″ x 19.09″ x 4.92″ / 1365 mm x 485 mm x 125 mm
Backer board kit for double-sided floor stand (E990151): 53.74″ x 19.09″ x 4.92″ / 1365 mm x 485 mm x 125 mm
Wall mount kit for countertop stand (E990079): 28.54″ x 8.46″ x 5.71″ / 725 mm x 215 mm x 145 mm
Assist button kit (E284334): 10.43″ x 10.04″ x 5.31″ / 265 mm x 255 mm x 135 mm
Countertop stand (E989127): 40.79 lbs / 18.50 kg
Floor stand (E989314 + E989512): 94.58 lbs / 42.90 kg
Floor stand base (E989512): 32.85 lbs / 14.90 kg
Floor stand top (E989314): 61.73 lbs / 28.00 kg
Double-sided base for floor stand (E989705): 42.99 lbs / 19.50 kg
Ceiling pole kit for floor stand (E989893): 11.90 lbs / 5.40 kg
Signage kit for floor stand with ceiling pole (E991255): 11.46 lbs / 5.20 kg
Backer board kit for floor stand or countertop stand (E990854): 9.26 lbs / 4.20 kg
Backer board kit for double-sided floor stand (E990151): 7.28 lbs / 3.30kg
Wall mount kit for countertop stand (E990079): 4.63 lbs / 2.10 kg
Assist button kit (E284334): 0.41 lbs / 0.19 kg
Countertop stand (E989127): 47.40 lbs / 21.50 kg
Floor stand base (E989512): 35.71 lbs / 16.20 kg
Floor stand top (E989314): 69.45 lbs / 31.50 kg
Double-sided base for floor stand (E989705): 46.05 lbs / 20.89 kg
Ceiling pole kit for floor stand (E989893): 14.64 lbs / 6.64 kg
Signage kit for floor stand with ceiling pole (E991255): 13.36 lbs / 6.06 kg
Backer board kit for floor stand or countertop stand (E990854): 11.02 lbs / 5.00 kg
Backer board kit for double-sided floor stand (E990151): 9.61 lbs / 4.36 kg
Wall mount kit for countertop stand (E990079): 5.95 lbs / 2.70 kg
Assist button kit (E284334): 1.07 lbs / 0.49 kg
0 C to 40 C / 32 F to 104 F
When using the Elo Computer Module (ECMG4) – Operating: 0 C to 35 C OR 32 F to 95 F
-20 C to 60 C / -4 F to 140 F
Operating: 20% to 80%; Storage: 10% to 90%
Countertop stand (E989127):
1x countertop stand
1x assembly instructions
power cables
– 1x 4.5M, C13 to NEMA 5-15P (NA)
– 1x 5M, C13 to CEE 7/7 (EU)
– 1x 5M, C13 to BS1363A (UK)
– 3x 0.3m, C13 to C14
– 3x 0.3m, C5 to C14
– 1x 0.35m, IEC C14 for ECMG4
2x Wi-Fi extension cables
4x printer paper chutes
1x filler plate
1x ADA plate
(refer to MS drawing for full details)
Floor stand top (E989314)
1x floor stand top
1x assembly instructions
power cables
– 1x 4.5M, C13 to NEMA 5-15P (NA)
– 1x 5M, C13 to CEE 7/7 (EU)
– 1x 5M, C13 to BS1363A (UK)
– 3x 0.3m, C13 to C14
– 3x 0.3m, C5 to C14
– 1x 0.35m, IEC C14 for ECMG4
2x Wi-Fi extension cables
4x printer paper chutes
1x filler plate
1x ADA plate
(refer to MS drawing for full details)
Floor stand base (E989512)
1x base plate
2x wheel assemblies
6x M5x6 wheel mounting screws
8x M5x10 socket head mounting screws
4x M5x10 flat head mounting screws
(refer to MS drawing for full details)