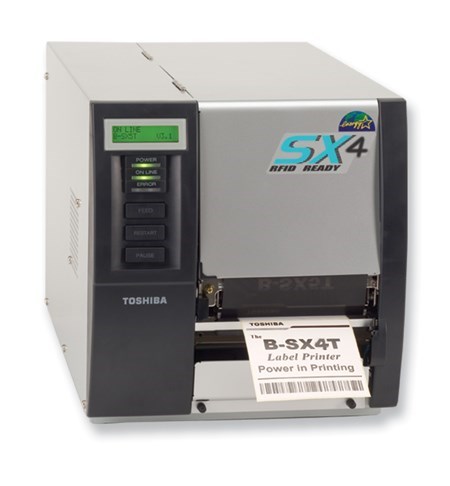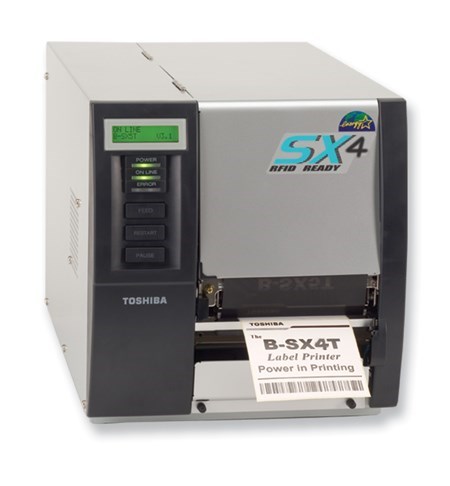 Ideal for transport and logistics, manufacturing and automotive applications
Available with either a metal or plastic outer casing, and 200dpi or 300dpi print quality, the B-SA4 range offers networking functionality as standard via the Central Network Management Suite which allows the user to manage all printers via their IP address and serial number.
Description
Additional information
Description
Ideal for warehousing, automotive and post office printing applications
Fast, reliable, easy and compatible with a lower total cost of ownership. Encased in a heavy duty steel cabinet, this feature packed printer is available with 203dpi print quality and has a 10 inch per second print speed, making it ideal for heavy demand label printing requirements, allowing for up to 30,000 labels to be printed per day. Supplied RFID ready (13.56MHz once the RFID option is purchased separately), and with BCI (Basic Command Interpreter to enable connection to existing legacy print systems), this printer offers the user future proofed printing at a cost effective price.
104mm print width
Direct Thermal and Thermal Transfer printing
Optional ribbon save, USB port, wireless LAN 10/100 board and 2 x PCMCIA slots
Supplied with Bartender Lite as standard
B-SX4 Product Details (351 KB)
MAIN PARTS:
| | |
| --- | --- |
| Partcode | Description |
| B-SX4T-GS20-QM-R | Thermal transfer / direct |
ACCESSORIES:
| | |
| --- | --- |
| Partcode | Description |
| B-4205-QM-R | Swing cutter |
| B-7704-IO-QM-R | I/O Interface |
| B-8204-QM-R | Rotary cutter with max. 112mm cutting width |
| B-9700-LAN-QM-R | LAN Interface |
| B-9700-PCM-QM-R | PCMCIA Interface board |
| B-9700-USB-QM-R | USB Interface |
| B-9700-WLAN-QM-R | Wireless LAN Interface |
| B-9704-RFID-H1-QM-R | RFID HF Mounting Kit Part 1 |
| B-9904-H-QM-R | Peel off/ Rewind Module |
| B-9904-R2-QM-R | Ribbon Save Module |
| B-QMV-MOUNT-UK | 2D Barcode Imager Mount |
| B-QMV-STD-UK-R | 2D Barcode Imager |
| B-SV100-OLV-UK-R | Online Verifier Scanner |
| B-SV100-STAND-UK | Online Verifier Base Stand |
| B-SX704-RFID-U2-EU-R | AGC RFID UHF Reader module and antenna – Kit (TOSHIBA) |
| OEM-S003-MODULE-R | RFID HF Reader module Part 3 |
| SX-RFID-ANTENNA-R | RFID HF Antenna Part 2 |
RIBBONS:
| | |
| --- | --- |
| Partcode | Description |
| BX760048AS1 | 48mm x 600m Scratch/Solvent Resistent, 50 rolls per box |
| BX760055AG2 | 55mm x 600m Wax Resin, 10 rolls per box |
| BX760055AG2SBL | 55mm x 600m Wax Resin Blue, 10 rolls per box |
| BX760055AG2SBR | 55mm x 600m Wax Resin Brown, 20 rolls per box |
| BX760055AG2SGR | 55mm x 600m Wax Resin Green, 10 rolls per box |
| BX760055AG2SOR | 55mm x 600m Wax Resin Orange, 20 rolls per box |
| BX760055AG2SRE | 55mm x 600m Wax Resin Red, 10 rolls per box |
| BX760055AG2SYE | 55mm x 600m Wax Resin Yellow, 20 rolls per box |
| BX760055AG4MW | 55mm x 600m Was Resin White, 20 rolls per box |
| BX760055AS1 | 55mm x 600m Scratch/Solvent Resistant, 10 rolls per box |
| BX760055AS1SBL | 55mm x 600m Scratch/Solvent Resistant Blue, 20 rolls per box |
| BX760055AS1SGR | 55mm x 600m Scratch/Solvent Resistant Green, 20 rolls per box |
| BX760055AS1SRE | 55mm x 600m Scratch/Solvent Resistant Red, 20 rolls per box |
| BX760055RG2 | 55mm x 600m Wax Resin, 10 rolls per box |
| BX760055RS1 | 55mm x 600m Scratch/Solvent Resistant, 10 rolls per box |
| BX760055SG2 | 55mm x 600m Wax Resin, 10 rolls per box |
| BX760068AG2 | 68mm 600m Wax Resin, 5 rolls per box |
| BX760068AG2OR | 68mm x 600m Wax Resin Orange, 20 rolls per box |
| BX760068AG2SBL | 68mm x 600m Wax Resin Blue, 10 rolls per box |
| BX760068AG2SBR | 68mm x 600m Wax Resin Brown, 20 rolls per box |
| BX760068AG2SGR | 68mm x 600m Wax Resin Green, 10 rolls per box |
| BX760068AG2SRE | 68mm x 600m Wax Resin Red, 10 rolls per box |
| BX760068AG2SYE | 68mm x 600m Wax Resin Yellow, 20 rolls per box |
| BX760068AG4WH | 68mm x 600m Wax Resin White, 20 rolls per box |
| BX760068AS1 | 68mm x 600m Scratch/Solvent Resistant, 5 rolls per box |
| BX760068AS1SBL | 68mm x 600m Scratch/Solvent Resistant Blue, 20 rolls per box |
| BX760068AS1SGR | 68mm x 600m Scaratch/Solvent Resistant Green, 20 rolls per box |
| BX760068AS1SRE | 68mm x 600m Scratch/Solvent Resistant Red, 20 rolls per box |
| BX760068RG2 | 68mm x 600m Wax Resin, 10 rolls per box |
| BX760068RS1 | 68mm x 600m Scratch/Solvent Resistant, 10 rolls per box |
| BX760068SG2 | 68mm x 600m Wax Resin, 10 rolls per box |
| BX760076AG2 | 76mm x 600m Wax Resin, 5 rolls per box |
| BX760076AG2SBL | 76mm x 600m Wax Resin Blue, 20 rolls per box |
| BX760076AG2SBR | 76mm x 600m Wax Resin Brown, 20 rolls per box |
| BX760076AG2SGR | 76mm x 600m Wax Resin Green, 20 rolls per box |
| BX760076AG2SOR | 76mm x 600m Wax Resin Orange, 20 rolls per box |
| BX760076AG2SRE | 76mm x 600m Wax Resin Red, 20 rolls per box |
| BX760076AG2SYE | 76mm x 600m Wax Resin Yellow, 20 rolls per box |
| BX760076AG4MW | 76mm x 600m Wax Resin White, 20 rolls per box |
| BX760076AS1 | 76mm x 600m Scratch/Solvent Resistant, 5 rolls per box |
| BX760076AS1SBL | 76mm x 600m Scratch/Solvent Resistant Blue, 20 rolls per box |
| BX760076AS1SGR | 76mm x 600m Scratch/Solvent Resistant Green, 20 rolls per box |
| BX760076AS1SRE | 76mm x 600m Scratch/Solvent Resistant Red, 20 rolls per box |
| BX760076RG2 | 76mm x 600m Wax Resin, 10 rolls per box |
| BX760076RS1 | 76mm x 600m Scratch/Solvent Resistant, 10 rolls per box |
| BX760076SG2 | 76mm x 600m Wax Resin, 10 rolls per box |
| BX760084AG2 | 84mm x 600m Wax Resin, 5 rolls per box |
| BX760084AG2SBL | 84mm x 600m Wax Resin Blue, 10 rolls per box |
| BX760084AG2SBR | 84mm x 600m Wax Resin Brown, 20 rolls per box |
| BX760084AG2SGR | 84mm x 600m Wax Resin Green, 10 rolls per box |
| BX760084AG2SOR | 84mm x 600m Wax Resin Orange, 20 rolls per box |
| BX760084AG2SRE | 84mm x 600m Wax Resin Red, 10 rolls per box |
| BX760084AG2SYE | 84mm x 600m Wax Resin Yellow, 20 rolls per box |
| BX760084AG4MW | 84mm x 600m Wax Resin White, 20 rolls per box |
| BX760084AS1 | 84mm x 600m Scratch/Solvent Resistant, 5 rolls per box |
| BX760084RG2 | 84mm x 600m Wax Resin, 10 rolls per box |
| BX760084RS1 | 84mm x 600m Scratch/Solvent Resistant, 10 rolls per box |
| BX760084SG2 | 84mm x 600m Wax Resin, 5 rolls per box |
| BX760088RG2 | 88mm x 600m Wax Resin, 10 rolls per box |
| BX760088RS1 | 84mm x 600m Scratch/Solvent Resistant, 10 rolls per box |
| BX760088SG2 | 88mm x 600m Wax Resin, 5 rolls per box |
| BX760089AG2 | 89mm x 600m Wax Resin, 5 rolls per box |
| BX760089AS1 | 89mm x 600m Scratch/Solvent Resistant, 5 rolls per box |
| BX760102AG2 | 102mm x 600m Wax Resin, 5 rolls per box |
| BX760102AG2SBL | 102mm x 600m Wax Resin Blue, 5 rolls per box |
| BX760102AG2SBR | 102mm x 600m Wax Resin Brown, 20 rolls per box |
| BX760102AG2SGR | 102mm x 600m Wax Resin Green, 20 rolls per box |
| BX760102AG2SOR | 102mm x 600m Wax Resin Orange, 20 rolls per box |
| BX760102AG2SRE | 102mm x 600m Wax Resin Red, 5 rolls per box |
| BX760102AG2SYE | 102mm x 600m Wax Resin Yellow, 20 rolls per box |
| BX760102AG4MW | 102mm x 600m Wax Resin White, 20 rolls per box |
| BX760102AS1 | 102mm x 600m Scratch/Solvent Resistant, 5 rolls per box |
| BX760102AS1SBL | 102mm x 600m Scratch/Solvent Resistant Blue, 20 rolls per box |
| BX760102AS1SGR | 102mm x 600m Scratch/Solvent Resistant Green, 20 rolls per box |
| BX760102AS1SRE | 102mm x 600m Scratch/Solvent Resistant Red, 20 rolls per box |
| BX760102RG2 | 102mm x 600m Wax Resin, 10 rolls per box |
| BX760102RS1 | 102mm x 600m Scratch/Solvent Resistant, 10 rolls per box |
| BX760102SG2 | 102mm x 600m Wax Resin, 5 rolls per box |
| BX760112AS1 | 112mm x 600m Scratch Solvent Resistant, 50 rolls per box |
| BX760114AG2 | 114mm x 600m Wax Resin, 5 rolls per box |
| BX760114AG2SBL | 114mm x 600m Wax Resin Blue, 10 rolls per box |
| BX760114AG2SBR | 114mm x 600m Wax Resin Brown, 20 rolls per box |
| BX760114AG2SGR | 114mm x 600m Wax Resin Green, 10 rolls per box |
| BX760114AG2SOR | 114mm x 600m Wax Resin Orange, 20 rolls per box |
| BX760114AG2SRE | 114mm x 600m Wax Resin Red, 10 rolls per box |
| BX760114AG2SYE | 114mm x 600m Wax Resin Yellow, 20 rolls per box |
| BX760114AG4MW | 114mm x 600m Wax Resin White, 20 rolls per box |
| BX760114AS1 | 114mm x 600m Scratch?Solvent Resistant, 5 rolls per box |
| BX760114AS1SBL | 114mm x 600m Scratch/Solvent Resistant Blue, 20 rolls per box |
| BX760114AS1SGR | 114mm x 600m Scratch/Solvent Resistant Green, 20 rolls per box |
| BX760114AS1SRE | 114mm x 600m Scratch/Solvent Resistant Red, 20 rolls per box |
| BX760114AS1SWH | 114mm x 600m Scratch/Solvent Resistant White, 20 rolls per box |
| BX760114RG2 | 114mm x 600m Wax Resin, 10 rolls per box |
| BX760114RS1 | 114mm x 600m Scratch/Solvent Resistant, 10 rolls per box |
| BX760114SG2 | 114mm x 600m Wax Resin, 5 rolls per box |
DT LABELS:
| | |
| --- | --- |
| Partcode | Description |
| L00740-155 | 102mm x 38mm DT,LPR=4225,8″OD/3″ inner,4RPB, Perm |
| L80156-101 | 57 x 102 mm DT, LPR=1432, 8″OD/3″inner, 8RPB, Perm |
| L80170-076 | 102mm x76mm DT,LPR=1890, 8″OD/3″ inner, 4RPB, Perm |
| L80170-101 | 102mm x 102mm DT,LPR=1432,8″OD/3″ inner,4RPB,Perm |
TT LABELS:
| | |
| --- | --- |
| Partcode | Description |
| L00622-125 | 57mm x 32mm TT,LPR=5087,8″OD/3″ inner,4RPB,Perm |
| L00640-155 | 102mm x 38mm TT,LPR=4225,8″OD/3″ inner,4RPB, Perm |
| L00640-305 | 102mm x 76mm TT,LPR=2238,8″OD/3″ inner,4RPB,Perm |
| L6089 | 148mm x 210mm TT,LPR=700,8″OD/3″ inner,4RPB,Perm |
| L6528 | 102mm x 102mm TT,LPR=1432,8″OD/3″ inner,4RPB,Perm |
| L80134-127 | 102mm x 127mm TT,LPR=1154,8″OD/3″ inner,4RPB,Perm |
SPARE PARTS:
| | |
| --- | --- |
| Partcode | Description |
| 7FM01641000 | Print Head |
Additional information
| | |
| --- | --- |
| Options | B-EX6T1 – Near Edge Ribbon, 305dpi [Mfr Part # B-EX6T1-TS12-QM-R], B-EX6T1 – Near Edge Ribbon, 203dpi [Mfr Part # B-EX6T1-GS12-QM-R], B-EX6T3 – Flat Head Ribbon, 305dpi [Mfr Part # B-EX6T3-TS12-QM-R], B-EX6T3 – Flat Head Ribbon, 203dpi [Mfr Part # B-EX6T3-GS12-QM-R] |