Digital UV Printing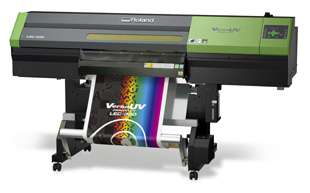 Introducing our new innovative digital printing & cutting system
Ideal for printing design concepts, promotions, prototypes and short run digital graphics, labels, window films, signs and banners. The Roland LEC 540 Versa – UV cured ink system produces vibrant, crisp colours in CMYK on a diverse array of materials ranging from simple self-adhesive and non-adhesive Vinyl's & Polyesters through to high performance products including ultra-destructible, tamper evident, temperature resistant, zero halogen, fire retardant materials and optically clear window films.
Applications for the LEC-540 include under bonnet automotive labels, rating plates, control panel & switch gear labels, vinyl cut characters, special decal & label shapes, signs and dual sided window graphics and much more. The LEC-540 has the capability, to not only print the graphics, but can also cut around the artwork to produce complex decals, window stickers and labels with amazing accuracy, eliminating the need for special tooling and printing plates.
The accurate printing and cutting feature is ideal for decals & labels requiring multiple shapes, produced in sets and added to kits for production and manufacturing lines. To further enhance the digital image, the printer can also add a clear coating using Roland's new "Clear-coat" technology.