Toshiba Digital Displays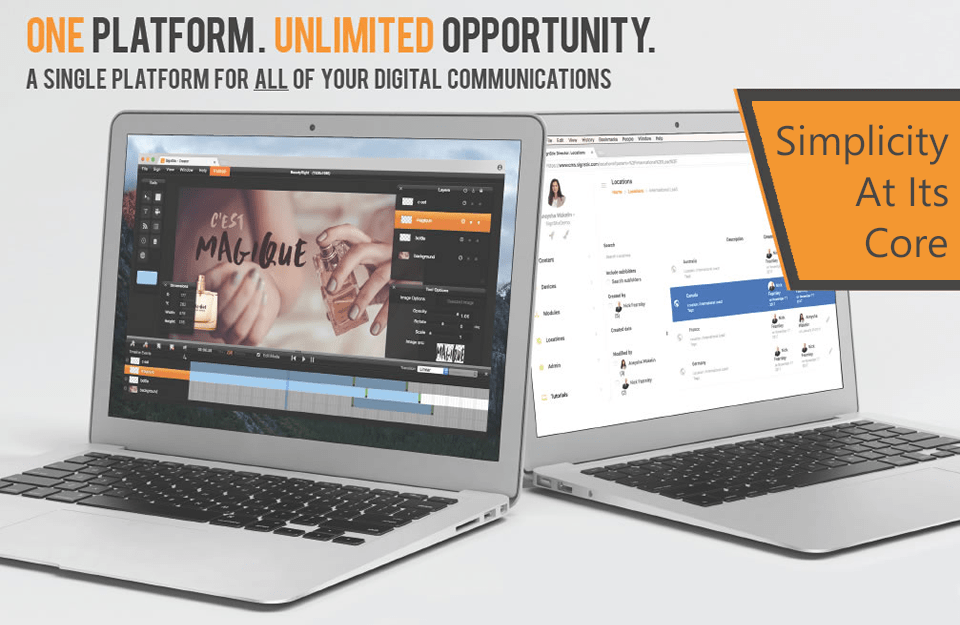 Toshiba SignStix – Digital Signage Software
WHAT IS SIGNSTIX
SignStix® is an award-winning digital communications platform, which allows you to deliver digital content to any device, anywhere in the world. Built from the ground up, our web-based tool gives you absolutely everything you need to build engaging digital signage campaigns, interactive experiences and automated communications with ease.
The Platform That Offers more Than Just Digital Signage
For those seeking a digital signage solution, SignStix® has everything you need (and more). But, thanks to the agile nature of our platform, SignStix® can also go above and beyond the capabilities of standard digital signage software. From simple in-store advertising to the advanced management of warehouse operations, SignStix® can do it all – in one, centralised location.
Digital Signage
SignStix® is easy-to-use and fully equipped with all of the tools needed to easily create, manage and deploy digital signage content and videos. Deploy content to virtually any screen or device, globally, in seconds!
Interactive Applications
Using SignStix's® web-based interactive tools, users can easily create sophisticated interactive experiences and custom applications – without writing a single line of code. Deliver content to interactive screens, tablets and smartphones
Automated Communications
The SignStix® API & JavaScript Extension, also known as our 'Automation Features,' allow users to build incredibly dynamic digital campaigns. Use the API to automate content such as images, stats or pricing. Integrate with third-party tech including audio and lighting systems or even proximity technologies for a truly engaging customer experience.
SignStix® For Retail & Hospitality
Our platform helps retailer's future-proof their brand by creating innovative brick-and-mortar environments, cleverly infused with all the very best elements of online retail.
Some Practical Uses
•    Interactive Product & Video Guides
•    Shelf Edge Display
•    Digital Menu Boards
•    Interactive Website
•    Lift 'n' Learn Solutions
•    Video Walls
•    Branded Social Media Walls