Roller/BFB All-In-One Cloud-based Platform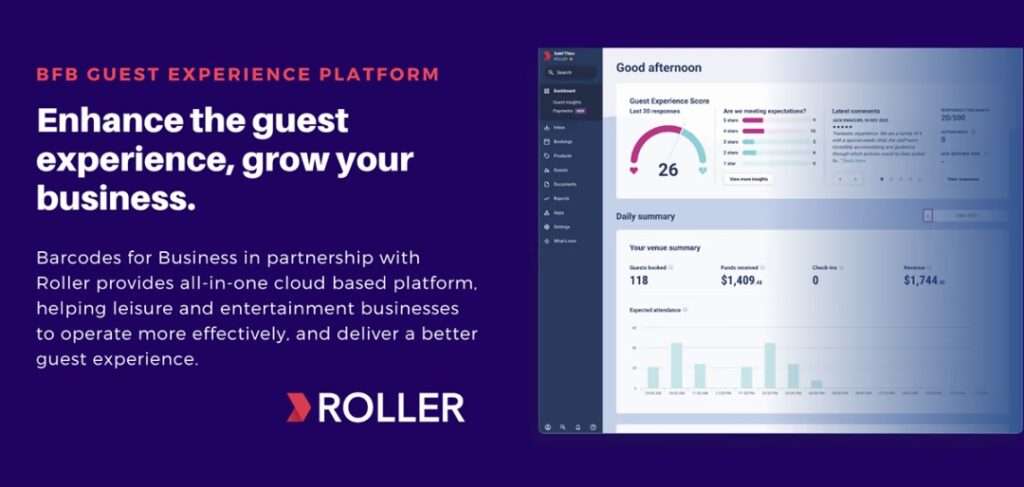 The Guest Experience Platform
Run your business all from the one platform, and set yourself up for success.
API and Integrations –Supercharge your account with our existing integrations, or build your own solution using our open API.
Cashless Wallets – Allow guests to load credit onto RFID cards or wristbands – convenient and frictionless spending.
CRM – Understand more about your guests, and make your marketing campaigns more personalized.
Customer Segmentation – Create rules to build segments of customers based on their spend, attendance, products purchased, and more.
Discount Codes – Build your discount codes however you please – flexible, customisable and publish with ease.
Gift Cards – Allow your guests to purchase digital gift cards for their friends, with the credit redeemable online and instore.
Packages – Create bundles of products to up-sell your guests, and apply discounts to each SKU, whilst keeping the reporting water tight.
Party Bookings – Capture more bookings online, and seamlessly manage the arrivals of your larger bookings.
Point of Sale – Powerful enough to run your entry, retail, and restaurant – all through the one platform.
Memberships – Turn visitors into repeat guests, with repeat billing, and tiered programs.
Mobile Checkin App – Check in guests via our mobile app – designed to bust lines!
Reporting and Analytics – Access your reports from your mobile, anywhere, at anytime.
ROLLER Payments – Take payments online, in store, with the latest payment technology fully integrated into your account.
Self Serve Kiosks – Automate your entry process, have your guests purchase their own tickets and check in by themselves.
Staff Permissions – Create your own roles and permission levels, to ensure your staff see only what they are supposed to!
Stock and Inventory Control – Ensure you have the right stock levels at anytime, and update with ease.
Table Management – Create accounts for each of your tables in your cafe or restaurant – build out 'tabs' and allow them to pay at the end.
Ticketing – Built to help attractions of all shapes and sizes to manage visitation.
Waivers – Go digital, without slowing down your guest flow – fully mobile accessible and built for speed.
HQ – Save time managing multiple venues. Use a centralized HQ to maintain multiple venues.
Guest feedback – Collect, action, and analyze guest feedback in just a few clicks to start turning critics into fans.
Access control – Automate guest access to your venue, eliminate guest queues and better monitor attendance.
Channel management – Reach more guests and drive more revenue by seamlessly managing multiple resellers all from one platform.
PRODUCTS