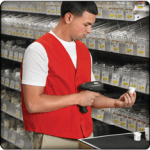 This mobile application enables the operator to perform Price Markdowns by entering a discount percent to be taken off of list price which will then generate a new Sale Price. This project has the ability to print a new sale label by enabling the print functionality connected to a mobile label printer.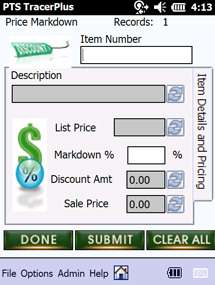 *All of our mobile software applications are fully customisable to suit customer requirements.
Barcode identification of products for complete accuracy
Product data displayed on screen
Apply discount levels to price
Prints new price & barcode label via BlueTooth or wired connection
Update product information on the database via wireless or bacth upload (USB)
Mobile device running Windows Mobile or Android OS
Touch screen operation, with minimum 3.7″ colour display
Integrated barcode scanner on Mobile Device
Stand alone or network PC running Microsoft Excel, Access Database or similar
Wireless network for live database update (optional)
Our range of mobile applications can be used with any type of commonly used spreadsheet or database application such as Microsoft Excel, Access or SQL amongst others as well as many accounting packages such as Pegasus or Sage.