RFID Labels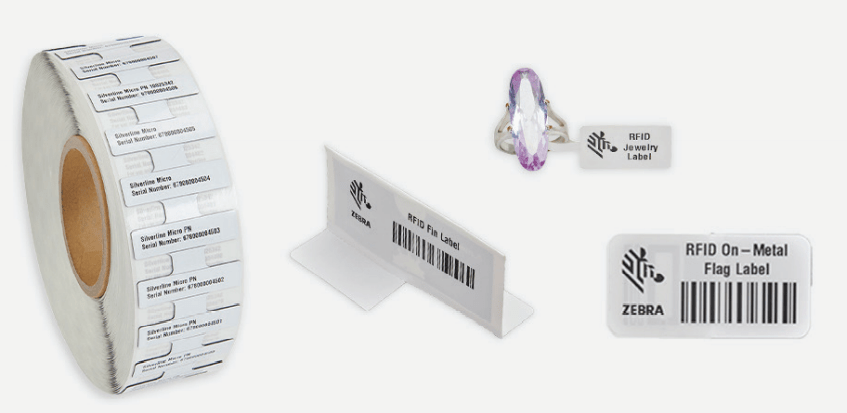 On-Metal & Challenging Application RFID Solution
Count on efficient tracking regardless of your application's surface.
To minimize the headaches of tracking metal, liquids, and other densely packed assets, Zebra's On-Metal & Challenging Application RFID Solution combines years of RFID expertise into rugged labels that adapt to varying surface types, ensuring reading accuracy. Whether in the warehouse or the storefront, count on dependable inventory tracking for real-time visibility into your operations.
Past issues with challenging surfaces
Historically, RFID has not fared well with dense materials such as fully packed pallets, metal or liquids. As a result, businesses have relied on other less innovative measures to track challenging assets and inventory, leading to increased costs and, at times, inaccurate data capture. By minimizing read range variability, Zebra's RFID tags ensure accurate tracking and empowers businesses to:
Provide real-time visibility for jewelry, tools, IT devices, and more Track inventory movement
Lower labeling costs by eliminating unnecessary reprinting
Reduce replenishment time when ordered through the ZipShip Program
RFID Power Built Tough for the Tough
To secure efficient tracking for all surface types, Zebra's RFID labels and inlays are made of flexible materials to fit challenging assets and metal surfaces. Whether you need to track small inventory or large metal assets, find a tag designed for dependability.
Silverline Labels – Compatible with the ZT411, Silverline complements an end-to-end RFID labeling solution that adapts to your current printing needs. Track metal tools and equipment with a rugged label and read range that extends up to 20ft.
Jewelry Labels – Track small items or jewelry with a polyester flag that will not leave an adhesive residue.
Flag Labels – By increasing the space between inlay and product surface and reducing curvature, this label extends its read range on challenging surfaces while remaining at a lower price point.
On-Metal Flag Labels – Unlike flag labels, this polypropylene solution works best when the antenna is touching the metal without implicating readability, eliminating the need for a new printer since labels fit your current RFID printer.
Encapsulated Tags –Zebra's encapsulation protects the tag's inlay while retaining its flexibility, so it can still be integrated on curved surfaces in stringent environments.

Zebra Certified Labels are made from thoroughly pretested materials to ensure consistent quality from run to run. As global leaders in RFID technology, Zebra works closely alongside your team to deploy an RFID solution that best fits your business needs and budget, all without compromising durability and performance.