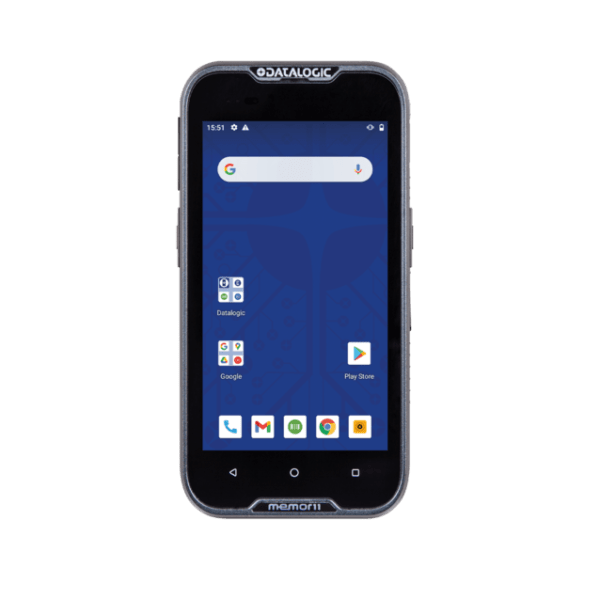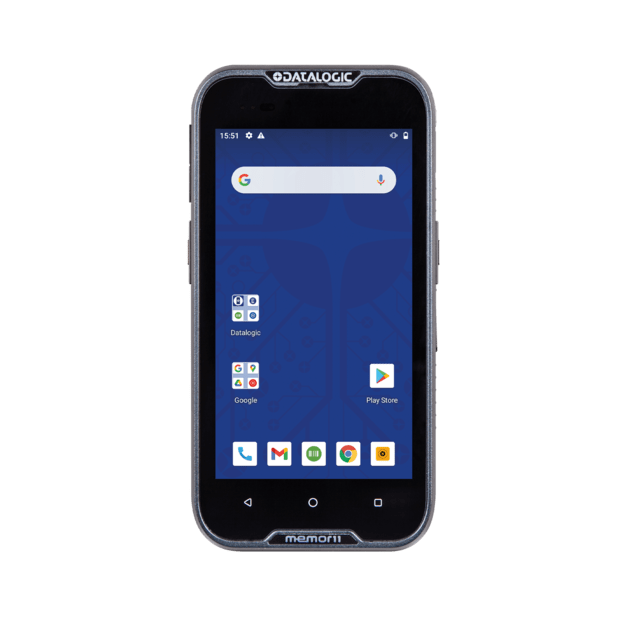 Datalogic Memor 11 Multitouch Mobile Computer
Features:
Android mobile computer with 5″ HD multitouch display (upgrades to Android 13+)
Ultra-slim 2D imager for scanning in dark environments
IP65 certified, Wi-Fi, Bluetooth 5.0, optional: 4G+ LTE
Replaceable SafeSwap battery with contactless charging function
Datalogic Shield software available for system upgrades and firmware updates
Description
Additional information
Description
The Datalogic Memor 11 mobile computer has a 5″ HD multitouch display and is the ideal companion for all mobile workers in retail, warehousing, manufacturing and the transport and logistics industry. It has an up-to-date Android operating system that is upgradeable to Android 13+, making it a future-proof investment. It is available as a Wi-Fi or Wi-Fi and cellular version.
Datalogic has optimised the processing capabilities of the mobile computer compared to the previous device. The Memor 11 is certified as an Android Enterprise Recommended device with the enhanced security and privacy settings of Android 11 and the benefits of Google Mobile Services. It features a superior 2D imager that captures 2D barcodes quickly and accurately, even in dark environments. It is also equipped with Datalogic Green Spot technology for visual feedback with good readability. A superior feature is its replaceable SafeSwap battery with contactless charging function: your customers simply release the two clips on the top left and right of the battery, after which an LED light signals readiness for battery replacement during operation, without having to use an app.
The Memor 11 is also very rugged: it can withstand drops from a height of 1.5 metres with a protective cover, as well as drops from a height of 1.2 metres without a protective cover. The mobile computer is IP65-certified and tested according to MIL-STD-810G. In addition, it is reliably ready for use in temperature ranges from -20 to +50 ?C and has a chemical-resistant housing that is suitable for daily cleaning with aggressive disinfectant solutions.
The Memor 11 is backward compatible with all existing Memor 10 accessories. EASEOFCARE service plans and Datalogic Shield software are available to extend the life cycle and protect the device for years to come.
For more information, download the Memor 11 Datasheet (295 KB).
Additional information
| | |
| --- | --- |
| Variants | Datalogic Memor 11, 2GHz Octa-Core, 2D, USB-C, BT, Wi-Fi, kit (USB), GMS, black, Android ( dlme11 ? 944900001 ), Datalogic Memor 11, 2GHz Octa-Core, 2D, USB-C, BT, Wi-Fi, 4G, GPS, kit (USB), GMS, black, Android ( dlme11-2 ? 944900003 ), Datalogic Memor 11, 2D, 12.7 cm (5''), GPS, Gun, USB-C, BT, Wi-Fi, Android, kit (USB), GMS, black ( dlme11-4 ? 944900006 ), Datalogic Memor 11, 2GHz Octa-Core, 2D, USB-C, BT, Wi-Fi, 4G, GPS, Gun, kit (USB), GMS, black, Android ( dlme11-5 ? 944900008 ) |