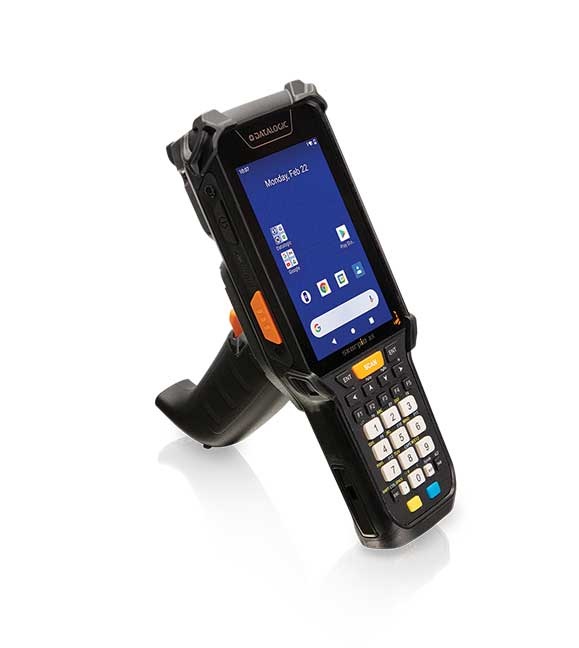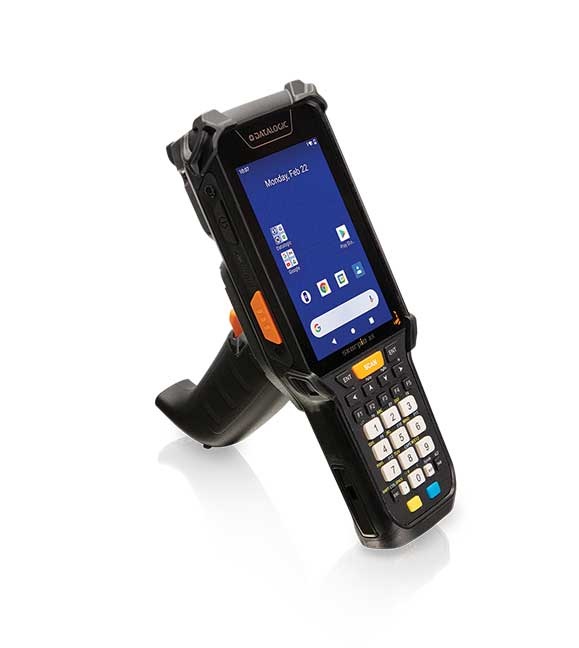 Description
Datalogic is pleased to announce the launch of the new Skorpio X5 XLR models embedding the new 2D near/far Extra-Long Range imager specifically developed for the Skorpio X5 mobile computer. The best-in-class fully rugged keyboard mobile computer is now empowered to face even tougher enterprise challenges with the ability to read close and very far barcodes in the blink of an eye.
A variety of markets, including verticals like Retail, Transport & Logistics, Manufacturing and Healthcare will benefit from the performance, ergonomics and ruggedness of the upgraded Skorpio X5 XLR mobile computer, especially for warehousing applications requiring 1D/2D scanning at long range distances.
The friendly aimer, the exceptional snappiness, and the ability to read through forklift windscreens, shrink wrap film, damaged or poorly printed and dirty barcodes make the Skorpio XLR an exceptional tool in the hands of warehouse professionals.
As with all of the other Skorpio X5 configurations, the Skorpio X5 XLR is powered by the market leader Qualcomm Snapdragon? 660 platform?and the latest Google OS Android? 10 with GMS and is validated by Google as an ?Android Enterprise Recommended? (AER) rugged device.
With the new XLR version, the Skorpio X5 mobile computer offers the ability to choose between 2 convertible form factors, 3 keyboard layouts, 2 charging technologies and now?4 different scan engines, allowing end users to have the best solution possible to solve their scanning needs.
With the largest high visibility 4.3?? display in its class, Skorpio X5 XLR mobile computer provides plenty of space for the most modern applications. This innovative device, designed and developed to withstand the most demanding environments, also incorporates?(as an option)?Datalogic?s industry-first wireless charging system for ultra-reliable contactless charging.
KEY FEATURES
Scan engine: 1D Imager, 2D Imager Standard Range, Mid-Range and near/far Extra-Long Range Imager
Largest 4.3? high visibility display in its class
High performance octa-core 2.2 GHz Qualcomm processor with 4 GB RAM
Android 10; validated for Android Enterprise Recommended for rugged devices
Handheld and Pistol Grip Form Factor (field attachable handle) with 3 Keyboard layouts to fit specific application and operational needs.
Fully Rugged 1.8 / 6.0 ft drop and IP65
Choice between wireless charging or a wired version with dedicated docks
TYPICAL APPLICATIONS
Transportation & Logistics: Warehouse Management, Picking, Receiving and Put-away, Loading and Unloading, Forklift operations, Cross Docking
Manufacturing: Work order management, Quality control, Traceability, Intra-logistics, Kitting, Production line replenishment
Retail: Shop floor operations, Warehouse Management, Receiving goods in store
Healthcare: Pharma distributor Warehousing, Inventory, Order fulfillment, Returns management, Shipping
PRODUCT AVAILABILITY
Orders are currently being accepted.
For more information, download the Skorpio X5 Mobile Computer Data Sheet.