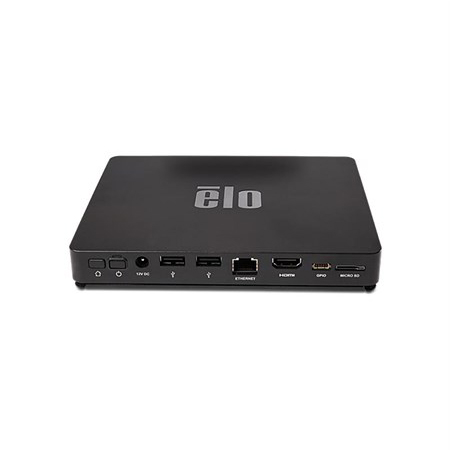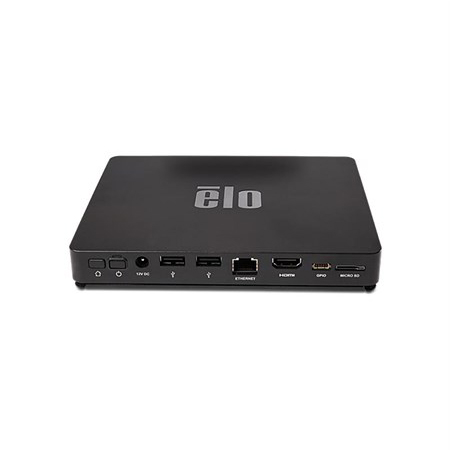 E901355 – Elo Backpack with Google Play Services (3.0)
Elo Backpack with Google Play Services (3.0)
Mfr Part # E901355
Elo Backpack 3.0, Android 8.1 with Google Play Services, Qualcomm Snapdragon 625 2.0 GHz Octa-Core Processor, 2GB RAM, 16GB Flash, HDMI out, Wi-Fi, Ethernet, Bluetooth 4.1, 2x USB, GPIO, EloView compatible, Black, Worldwide.
Description
SPECIFICATION
Download
Description
E901355 – Elo Backpack with Google Play Services (3.0)
Elo Backpack 3.0
The Elo Backpack 3.0 for Android delivers a reliable, commercial-grade compute engine with the flexibility and functionality of Google Play Services. Based on a unified architecture, Elos Android-powered devices make it easy to create a seamless experience for your customers from their mobile devices to your interactive in-store experiences.
The 3.0 compute engine transforms touchscreen monitors and signage displays into commercial-grade systems capable of running audio and video content, interactive HTML webpages and Android-based apps. The Backpack also supports industry-leading peripherals for scanning, payment, printing and biometric input.
Users can easily scale Elos commercial Android platform to many sizes and form factors and take advantage of the latest Google Mobile Services features. Pair the compute engine with EloView to simplify the delivery of content, enable remote management capabilities and create a consistent deployment that is cost effective and optimized for commercial use.
Google Play Services
Now you can create a seamless experience for your customers – from their personal devices to your interactive experiences in store. With Google Play Services, your app can take advantage of the latest, Google-powered features while maintaining the added flexibility of EloView – making deployments and management a breeze.
Elo EssentialEdge for Android
Are you looking for ways to make your digital transformation faster, easier and more affordable Elo EssentialEdge for Android offers everything you need to build and operate interactive solutions for your business. With easy-to-use development kits, robust management tools, world class life cycle management and security, Elo can help you deliver the convenience and familiarity of Android interfaces in a secure, business-friendly way.
Scalable & Easy to Deploy
With the Elo Backpack, we are providing kiosk integrators with an architecture that will lower costs, improve scalability and simplify the creation of customized kiosks. The low-power, solid state fan-less computing solution offers the capability to scale deployments and remotely manage kiosks out-of-the-box. Combined with Elos brilliant commercial-grade touch monitors, integrators can transform what was a bulky, highly customized kiosk into a sleek and modern design.
Creating beautiful self-service solutions and deploying a kiosk network is now easier than ever!
Add Android Computing to Elo Touchscreens
The Elo Backpack is compatible with select Elo touchscreen digital signage, desktop monitors, kiosk open-frames, and any HDMI-capable display (without touch support).
[one_half]
Interactive Digital Signage
[/one_half]
[one_half_last]
Open Frame Touchscreen Displays
[/one_half_last]
[one_half]
Touchscreen Monitors
[/one_half]
[one_half_last]
HDMI Capable Display
[/one_half_last]
Power to Perform
Connections
By combining an Elo touchscreen monitor with the Elo Backpack connectivity options increase.
Transforming How Businesses Manage Digital Experiences
EloView allows you to deploy and securely manage your entire network of Android-powered interactive signage, point-of-sale systems and kiosk – from anywhere around the world. You can deploy content, manage settings and maintain the OS to reduce operating costs while increasing up-time and security.
The EloView architecture also allows you to leverage your content investments in mobile and web assets. Simply push your apps and responsive websites via the EloView portal. EloView's modular system is designed to integrate your business to enable smarter content distribution and device management abilities alongside your existing CMS platforms and MDM tools.
Processor: Qualcomm Snapdragon APQ8053 2.0GHz Octa-Core Processor
16GB SSD
GB equals one billion bytes when referring to storage capacity. Accessible capacity may be less.
Select Models:
90-Series Open Frames (SAW & PCAP)  1093L, 1291L, 1590L, 1593L, 1790L, 1990L, 1991L, 2094L, 2293L, 2294L, 2295L, 2494L, 2495L, 2794L, 2796L
Large Format Open Frames  3243L, 4243L, 4343L, 5543L
Touchscreen Signage  3202L, 3203L, 4202L, 4602L, 5502L, 5553L/6553L (supports a maximum resolution of 1920 x 1080), 7001LT
02-Series Touchscreen Monitors  0702L, 1002L, 1302L, 1502L, 1902L, 2002L, 2202L, 2402L, 2702L
Any HDMI-capable display, without touch support
Depends on the touch monitor being used
Max of 16 simultaneous touches
Control Buttons: Power, Home
Wireless: 802.11 b/g/n/ac
I/O Ports: HDMI output, 2x USB 2.0 Ports, MicroSD card slot, Ethernet 1x LAN (Gigabit), GPIO
OS: Android 8.1 Oreo with Google Play Services; EloView content deployment and management
AC input voltage: 100-240 VAC
Input frequency: 50-60 Hz
Power Consumption (Typical):
ON: 4.2W
OFF: 3.8W
SLEEP: 0.12W
Mounting Options: See details for mounting in the User Manual and Quick Install Guide
Dimensions: 6.50″ x 5.34″ x 0.94″ / 165 mm x 136 mm x 24 mm
Individual System: 13.2″ x 7.7″ x 3.0″ / 335 mm x 196 mm x 75 mm
8 systems/carton: 16.2″ x 12.6″ x 15.0″ / 412 mm x 320 mm x 375 mm
Weight (Unpackaged): 1.2 lbs / 0.53 kg
Individual System: 2.6 lbs / 1.2 kg
8 systems/carton: 24.3 lbs / 11 kg
Operating Temperature: 0C to 40C / 32F to 104F
Storage Temperature: -20C to 50C / -4F to 122F
Operating: 20% to 80%
Storage: 5% to 95%
Real-Time Clock: lithium coin cell battery
Elo Backpack Android Engine
North America AC adaptor head
European AC adaptor head
Quick Install Guide
Regulatory approvals and declarations: UL/cUL, FCC, IC, CE, CB, KCC, NOM, BIS
Canada, USA, Australia, Japan, South Korea, New Zealand, Austria, Belgium, Czech Republic, Denmark, France, Germany, United Kingdom, Hungary, Italy, Netherlands, Poland, Portugal, Romania, Spain, Sweden, Switzerland, Turkey
Extended Warranty Options:
3 year warranty coverage – Elo P/N: E895914
4 year warranty coverage – Elo P/N: E896120
5 year warranty coverage – Elo P/N: E896322
2 year warranty coverage + AUR – Elo P/N: E896513
3 year warranty coverage + AUR – Elo P/N: E896699
4 year warranty coverage + AUR – Elo P/N: E896903
5 year warranty coverage + AUR – Elo P/N: E897104
Elo Backpack Mounting Bracket – Elo P/N: E802593
GPIO – Elo P/N: E211544