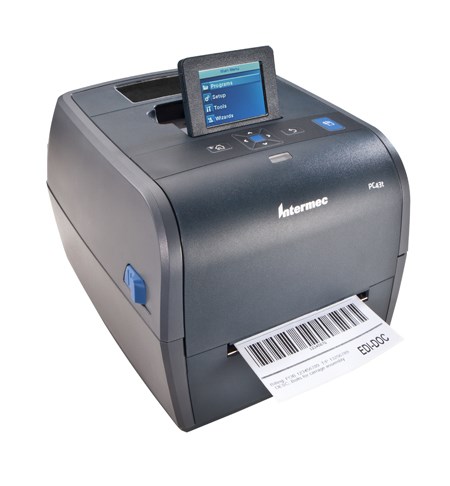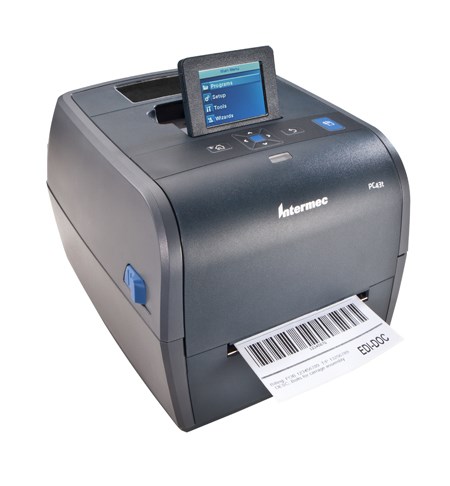 Honeywell PC43T Thermal Transfer Desktop Printer
Features:
10-language LCD or Icon-graphics user interface maximizes uptime
One-handed media loading for trouble-free use
Half-inch or one-inch ribbon core maximises time between roll changes (PC43t)
Fastest throughput in its class at 8 ips for a productivity advantage
Quick configuration with USB flash drive
Description
Honeywell PC43T Thermal Transfer Desktop Printer
Honeywell PC43T Thermal Transfer Desktop Printer Super easy to install and use, the compact PC43d / PC43t is a purpose-built platform with an innovative design guided from customer input. This 4″ wide desktop printer is perfect for space-constrained settings, and offers tailored solutions for transportation / courier, healthcare, and retail and hospitality markets, as well as small and medium business manufacturing, and warehouse and office environments.
Available in 4″ direct thermal (PC43d) or 4″ thermal transfer (PC43t), the Honeywell PC43d / PC43t is designed to set a new standard in user friendliness and flexibility. PC43d / PC43t features a multi-language LCD or Icon-graphics user interface for maximum ease of use. User-installable connectivity options and accessories ensure that PC43d / PC43t will fit your business needs both today and tomorrow. Its low cost and fast operation make the PC43d / PC43t the smart choice for light-duty labelling applications where users need a reliable, easy-to-use printing solution.
The Honeywell PC43T is a thermal transfer desktop printer designed for versatile and reliable label printing in various business and industrial applications. Below is a description highlighting its key features:
Compact and Desktop-Friendly:

The PC43T is compact and designed to fit easily into desktop spaces, making it suitable for environments where space is a consideration.

Thermal Transfer Printing Technology:

Utilizing thermal transfer printing technology, this printer is capable of producing high-quality labels with excellent clarity and durability. Thermal transfer printing involves the transfer of ink from a ribbon onto the label, ensuring long-lasting and smudge-resistant prints.

Print Speed and Resolution:

The printer offers efficient printing with a respectable print speed, allowing for quick label production. Additionally, it provides a good resolution for clear and crisp text, barcodes, and graphics.

User-Friendly Interface:

Featuring an intuitive interface, the PC43T is user-friendly and easy to operate. The controls are designed to be accessible, allowing users to configure settings and manage printing tasks with ease.

Wide Range of Connectivity Options:

The printer supports various connectivity options, including USB, Ethernet, and serial ports, providing flexibility to connect to different devices and networks. This makes it suitable for integration into diverse work environments.

Label Handling and Media Compatibility:

The PC43T is designed to handle a variety of label types and sizes. Its adjustable media sensors and easy-to-load capabilities contribute to efficient label handling.

Durable Construction:

Built with durability in mind, the printer is constructed to withstand the rigors of regular use in industrial and commercial settings. This ensures a long lifespan and reliable performance over time.

Versatile Applications:

The Honeywell PC43T is versatile and can be used across different industries, including retail, healthcare, manufacturing, and logistics. It is suitable for printing product labels, shipping labels, barcode labels, and more.

Label Design and Management Software:

The printer may come with label design and management software, allowing users to create and customize labels according to their specific requirements.
Please note: The Honeywell PC43 requires a UK RoHS AC Power Cord, part number 1-974029-020 – available in the accessories for this printer.