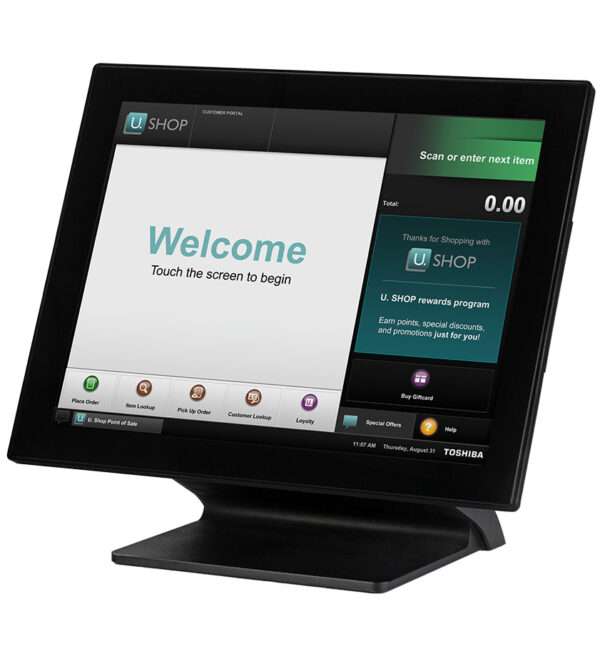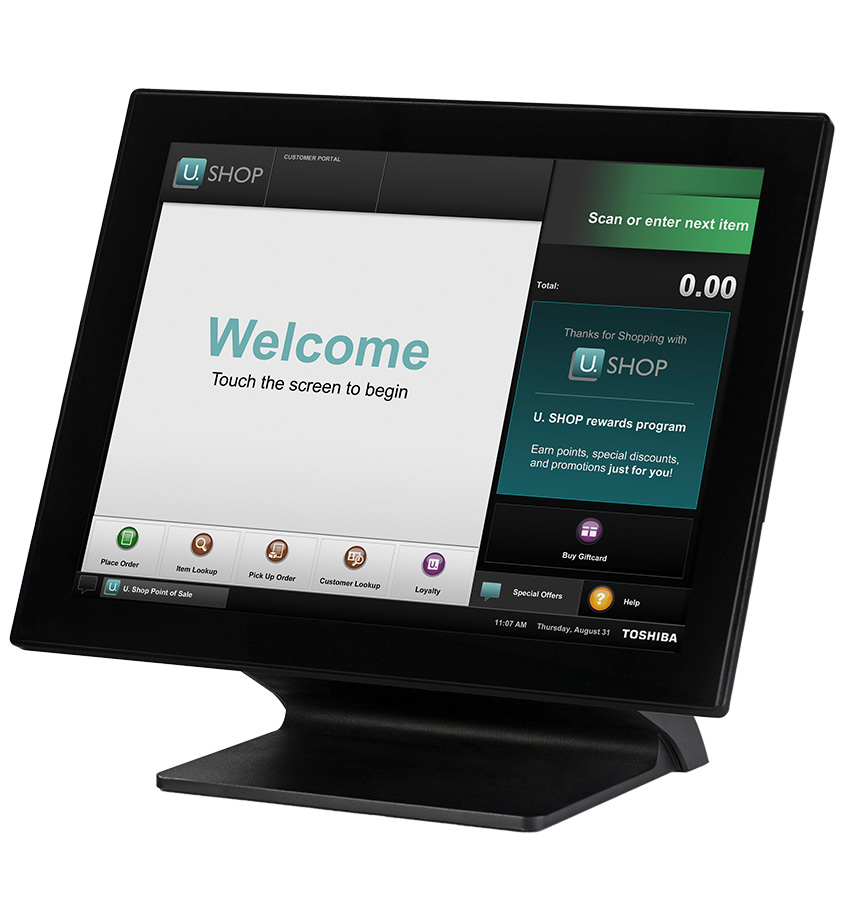 Description
Highlights
Compact, all-in-one design saves space and improves flexibility
Primary 15-inch display adjusts from 90 degrees to lay flat
Dual video display option allows installation of additional 10? screen
Modular system board can be upgraded easily as technology evolves
Multiple dedicated POS ports including USB, RS232 and cash drawer
Broad operating system support for more peripheral options
Agility, performance and value
The T10 is retail-optimized and designed to scale as retailers' and consumers' demands change.
If your business is expanding quickly, and agility and affordability are your top priorities, you don?t have much time to agonize over your point of sale system. The T10 can help.
With the T10, you can customize a reliable, all-in-one POS system that will serve your business well today and be ready for the inevitable changes that are right around the corner. Designed with flexible configuration in mind, the T10 system can scale to meet both retailers? and consumers? expectations.
MAINTENANCE
User-friendly modular system board can be upgraded in-house as technology changes, keeping repair costs low.
MANAGEABILITY
Discreet cable management for a neater, more streamlined checkout counter.
SERVICEABILITY
Built for fast installation and easy access to components for quick in-store maintenance.
WARRANTY
Maximize your investment with a 3-year Careflex extended maintenance plan.
Specifications:
Description: Toshiba T10
Machine: 4818
Model: T10
Primary Configuration (others available):
15? Bezel less PCT Touch
Intel J1900
4GB Memory
128GB SSD
1 x 24V P-USB
2 x 12 P-USB
4 x USB 5V
4 x RS232 (2-DB-9, 2 RJ50)
1 x Display Port / VGA
1 x Drawer Port Minimum ? RJ11
Stereo Speaker / PC Beeper
1 x Line Out,1 x Mic,1 x Speaker if no internal Speaker
Color / Key Coded Ports
Power, SSD, Network LED's
Power On Button
Operating Systems Supported
Microsoft Windows 10 2016 LTSB (32-bit and 64-bit)
Windows 10 IoT Enterprise 2016 LTSB Entry (64-bit) Preload
Microsoft Windows Embedded 7 / Win7
Microsoft Windows Embedded POSReady 7
Microsoft Windows Embedded PosReady 7 Preload
Microsoft Windows Embedded 8.1 Industry
Linux kernel 4.0+ Ubuntu Linux & associated distributions
Toshiba T10 Warranty
T10 supports 3 Year Warranty. To receive warranty service on this product through Toshiba?s Exclusive PWP, contact the Service Center at http://service.ebn.com.tw/tgcs.
You shall provide information in relation to the defective product(s). The information required would include model, serial number, invoice number, shipping date, and possibly photographs of the defective part(s).
The Service Center will, at its discretion, repair or replace the motherboard, barebones, small board, power supply or other such part. The cables and mechanical parts, including chassis, rail, heat sink, I/O shield, etc. of the product are excluded from the coverage of this warranty.
The product will be shipped to the Service Center for replacement or repair. You shall pay for the one-way shipping charges from your location to the Service Center.
If no defect is found on the returned product, if it has defaulted due to (a) physical damage by the user, (b) use of components not included in the original product, (c) misuse by the user, (d) unsuitable power sources or environmental conditions, (e) normal wear and tear, or (f) damaged during shipping en route to the Service Center, you are fully responsible for all fees incurred for returning the product to your location.
The Service Center will not be responsible for any losses or damage to the product incurred while the product is in transit or is being shipped for repair. Insurance is recommended.
The Service Center will return the repaired product around 14 working days after the products have been received at the Service Center.
In the European Union, warranty will be provided through a Toshiba Service Center.
Please refer to the Statements of Limited Warranty document found at Toshiba Global Commerce Solutions website for complete Warranty service information.
Download Full Specification of Toshiba T10 (5 MB)